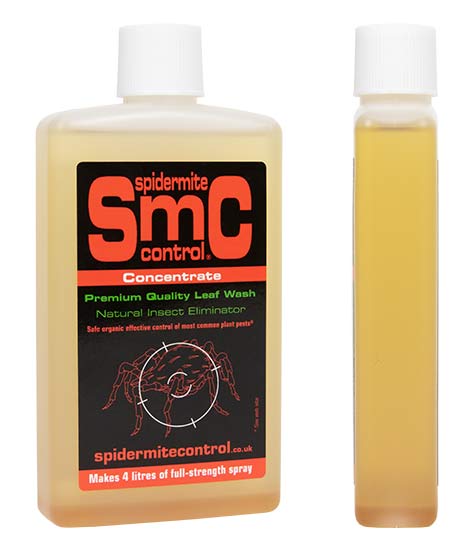 Spidermite Control Key Features
Servicing The Horticultural World Since 1999
Highly effective – tested, used and recommended by professionals
Fast acting
Easy to use
100% Organic
100% Safe
100% Control
Safe to children, pets and wildlife
Safe to bees and beneficial insects
Safe to use with biological controls
No restrictions on how often it can be used
Controls powdery mildew.
Controls: Spidermites, Greenfly, Blackfly, Whitefly, Thunderfly and many more plant pests.
Tested on a large number of plant species with no phytotoxicity problems **
** If in doubt, test on a small area of the plant before applying to the rest.
Spidermite Control (SMC) Products
Reviews and Testimonials
I have researched various methods and tried many different products but nothing has ever come close to Spidermite Control. The sheen and shine actually stimulated growth, while completely eliminating the pest infestation.
This product is a life saver! I was going to throw out my entire crop and Spidermite Control saved my valuable plants! Thank you, Spidermite Control; I am going to tell my friends about it.
As a novice grower I did not want to use harsh chemicals on my plants. My friend told me about your product and the results were truly remarkable: After only one application my plants were "bug free"….even the powdery mildew problem was eliminated.
Spidermite Control is the best product I have ever used to treat my spidermite infestation! Not only did it kill my mites on contact, it killed the eggs too.
I am a 20 year veteran grower who is set in my ways, I was reluctant to try your product, but after only one simple application of your Spidermite Control product it made a believer of me, and that isn't easy to do! Thanks, Spidermite Control….sometimes an old dog can be taught a new trick.